BIG COUNTRY
After leaving our camper all alone at the harbour of Antwerp we are more than happy to get it back three weeks later in Halifax without any major bureaucracy. The time back home in between flew by very fast. Finishing work, giving up our two apartments, putting our belongings in storage and the many farewell-parties filled our last days in Switzerland.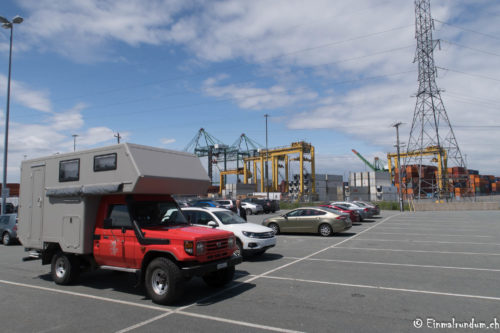 It finally starts!
We quickly refill our gas bottles and diesel tanks and stock up our supplies in the first Walmart. A bit puzzled we then sit in our car and don't know exactly what comes next because our plan ends here.  We only know that we want to head west through Canada and on to Alaska. After consulting the map, we become fully aware of the vast dimensions of our project. From Halifax to the border of Alaska it is about 7500 km! We are not used to such distances in Switzerland. Since it's rather cold and rainy, we decide to leave Nova Scotia quickly and make our way on to the long road which lies ahead.
As soon as we leave Halifax there is mainly forest left and right of the road. In New Brunswick we visit the first national park and are more than surprised when suddenly a black bear stands right beside the road. Unfortunately, Stefan has his zoom lens still stored in the cabin and so the picture is only a proof that there are bears in Canada.
Cities and more
The area along the Saint Lawrence River is densely populated and we drive through a clean and well-maintained Canada. It reminds us a bit of Switzerland, only everything is much larger. The houses have plenty of surroundings and one of the favorite activities of the Canadians is mowing their yard. They do not have the tiny push mower as we do in Switzerland but fancy ride-on mower with driver seat to
We reach Quebec and wander for a day through the very French-looking old town of the city. The weather gives us a few hours of sunshine so the time is right for our first ice cream. As soon as we leave Quebec it's raining cats and dogs for three days. That's probably why Montreal in our memory is rather gray and dreary. We take refuge in the famous cathedral Notre-Dame de Montréal and marvel at the magnificent woodwork. Until a few decades ago it was painted in a marble look to get as close as possible to the European role models. We are also captivated by the city under the city: Montreal has huge underground shopping and office centers all connected with tunnels so that you can move dry foot from one part of town to the next.
We continue along the Saint Lawrence River to the mega-metropolis Toronto, which we drive past at first to visit the huge Niagara Falls. The amount of water and the force with which it falls over the rocks into the depth are immense. This year there's particularly a lot of water because it rained during the whole spring. A lot of people here suffer from flooding, in many places the water is right up at the doorsteps of the cottages on the private islands.
And then finally we get to Toronto, a huge and modern North American city. We enjoy the breathtaking view from the famous CN Tower on the altitude of 500m, stare in amazement at the magnificent skyscrapers made of glass and in the evening at the skyline reflecting in Lake Ontario.
Arrived at last
Particularly nice here in Canada is the friendliness of the people. Sometimes we feel like little stars when we and our red-gray mobile are admired in a parking lot. Many people are querying about our plans and are very enthusiastic about what we do and our 4WD camper. We are spontaneously invited over for a BBQ or a beer and some even get us a Canada flag as a present. Four flags and a small wind wheel are already in our collection.
After our visit in Toronto we are looking forward to more nature and wilderness and are curious about the huge lakes and the seemingly endless prairie between Winnipeg and Calgary.