On our journey we meet again and again very nice and exciting people. With some of them one speaks only a few minutes and sadly misses to exchange the coordinates. With others though, we spend some great hours, days or even weeks and we share experiences, tips and stories.
Unfortunately, this list is anything but complete ? We are happy to hear from all these people one way or the other or even better, we hope that our paths will cross again somewhere!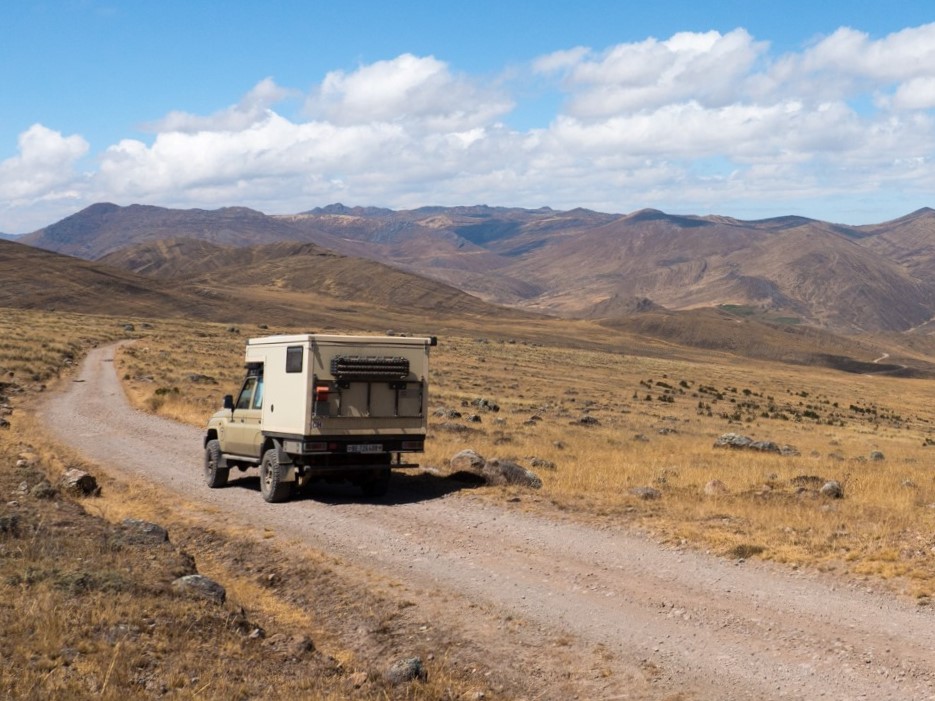 We meet the Swiss couple with their sweet daughter for the first time on a campsite in the Colombian Cordilleras. We are just curing our bad tummies and are therefore not quite as social. That's why we are happy when we happen to land at the same places on our way through Colombia and later Ecuador and finally have time to get to know each other. Their tour started in Cartagena and they have one year to discover South America.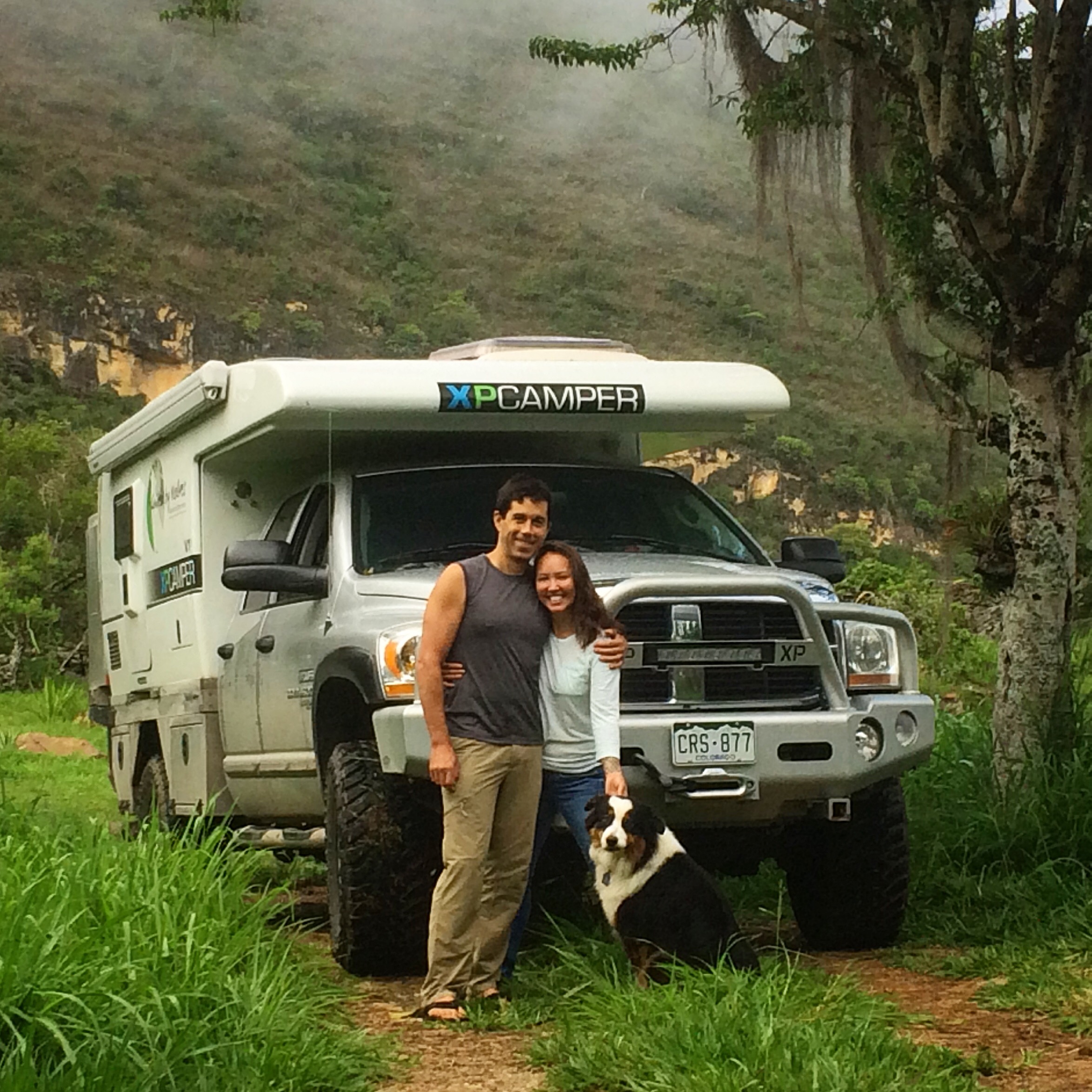 On the way back from the Corcovado National Park in Costa Rica, we cross path with this American couple and their Australian Shepherd dog at the roadside as they lower the air pressure in the tires for the long and bumpy gravel road along the coast. We exchange coordinates and let chance run free when and where our paths will cross again… Only a few days later, in Panama, we meet again and dive together with hammerhead sharks before we ship our vehicles and spend some happy evenings in Cartagena (Colombia) together with other travelers. We are almost certain that we will meet again on our way to Patagonia…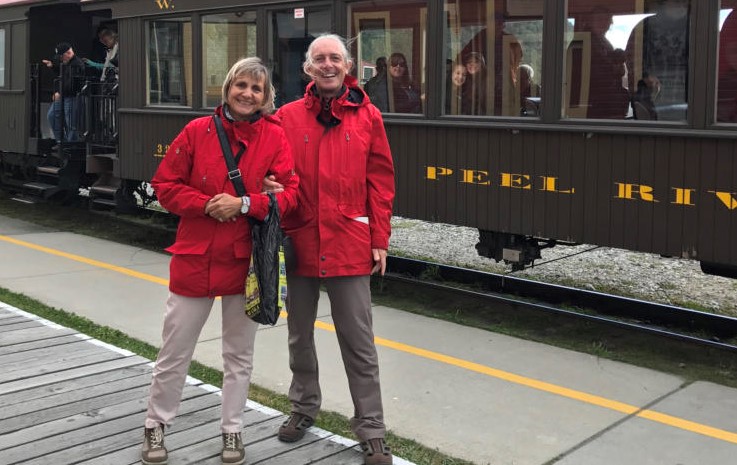 It's a re-re-reunion with Irmgard and Klaus in southern Mexico… For the first time, we met while visiting some hot springs in Canada and later we crossed paths again in Alaska. However, we had much more time to get to know each other and to philosophize about traveling and life only at our last meeting in Palenque.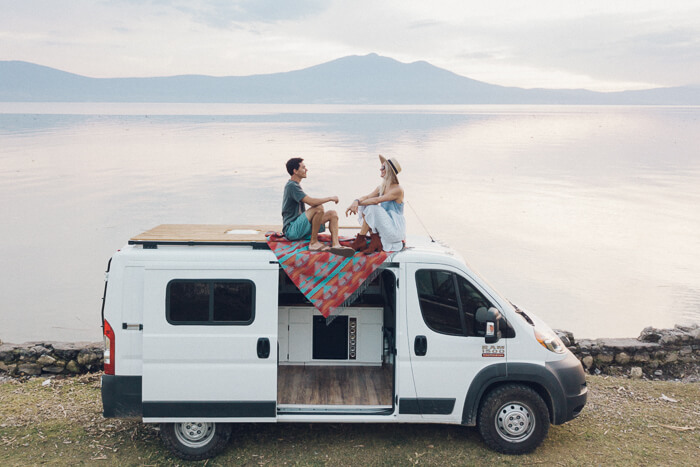 Laura and her partner Joel travel from the USA to Tierra del Fuego in their self-converted van. Our route crosses several times in Mexico before we have to let them go because they travel faster than we do. Their photos inspire many Instagram- and Blog-Follower – rightly so, as we find. We wish them a lot of great experiences on the way along the PanAm-Highway.
Long before we set off on our trip, we followed the travels of Edy and Brigitte online via their homepage. Since 2005 they have been "on the move" all over the world in a wide variety of vehicles. When it comes to overlanding, those two are absolute specialists! On Baja California, we meet the two completely unexpected on a beach and listen – unfortunately too short – to their stories. We are looking forward to seeing them again, wherever that may be in this wonderful world and wish them safe travels at all times!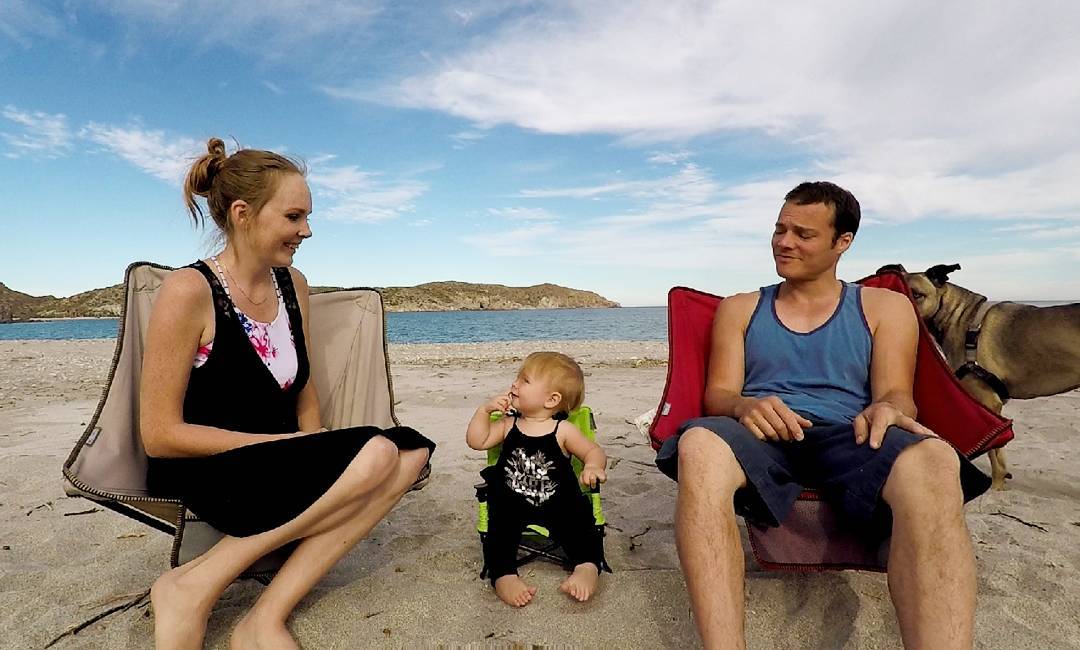 On a deserted beach we spot the gray Delica with license plates from British Columbia (Canada) of Angie & Ken. We like the young couple right from the start and we take their 1-year-old daughter Keela and the impetuous watchdog Cash right to our hearts! We spend many evenings together cooking and telling tales of past adventures and when the wind blows too strong, we enjoy the luxury of their large awning tent and sit together around the table in the cozy warmth.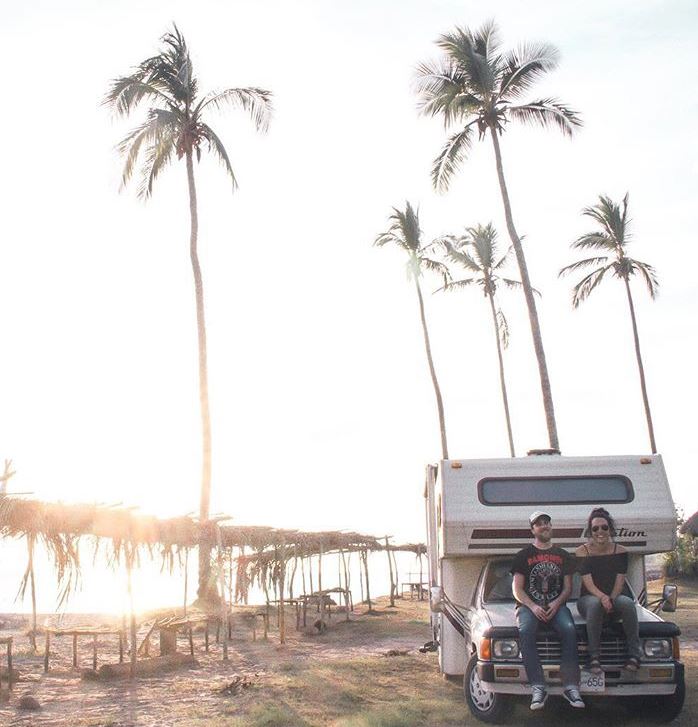 Looking for a place to celebrate New Year's Eve, we spot the amazing retro Toyota camper from Pilar and Jorge in the middle of a parking lot. The question of whether they can move some inches to the side so that we fit in between, turns into a few wonderful days with the two young Argentines. We laugh a lot, play cards and eat delicious (Jorge is not only a lawyer but also a cook!). From Pilar we learn a lot about the social media and we are looking forward to seeing them again in Buenos Aires at the very latest. ¡Buen viaje amigos y hasta luego!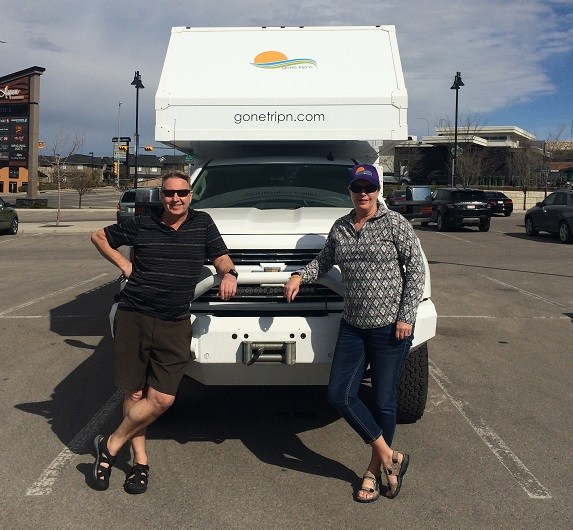 In the marina of Oceanside in California we see the adventure mobile of Catherine and Stewart already from a distance! We stop to say hello, immediately like each other and decide to spend the evening together in the harbor restaurant. The next day we say goodbye with the intention to see them again somewhere on Baja California. No sooner said than done, just a few miles after the border to Mexico, we meet up again and spend great weeks together traveling south on the peninsula.
On the sailing cruise with the Lu-Lu Belle through the glacier fjords of Valdez, we sit literally in the same boat all day. We have a lot to tell to each other, as we have both been on the same road for the same length of time. As we continue our journey we meet again and again: a coincidental meeting in Vancouver and later in Bryce Canyon and a planned reunion on Baja California.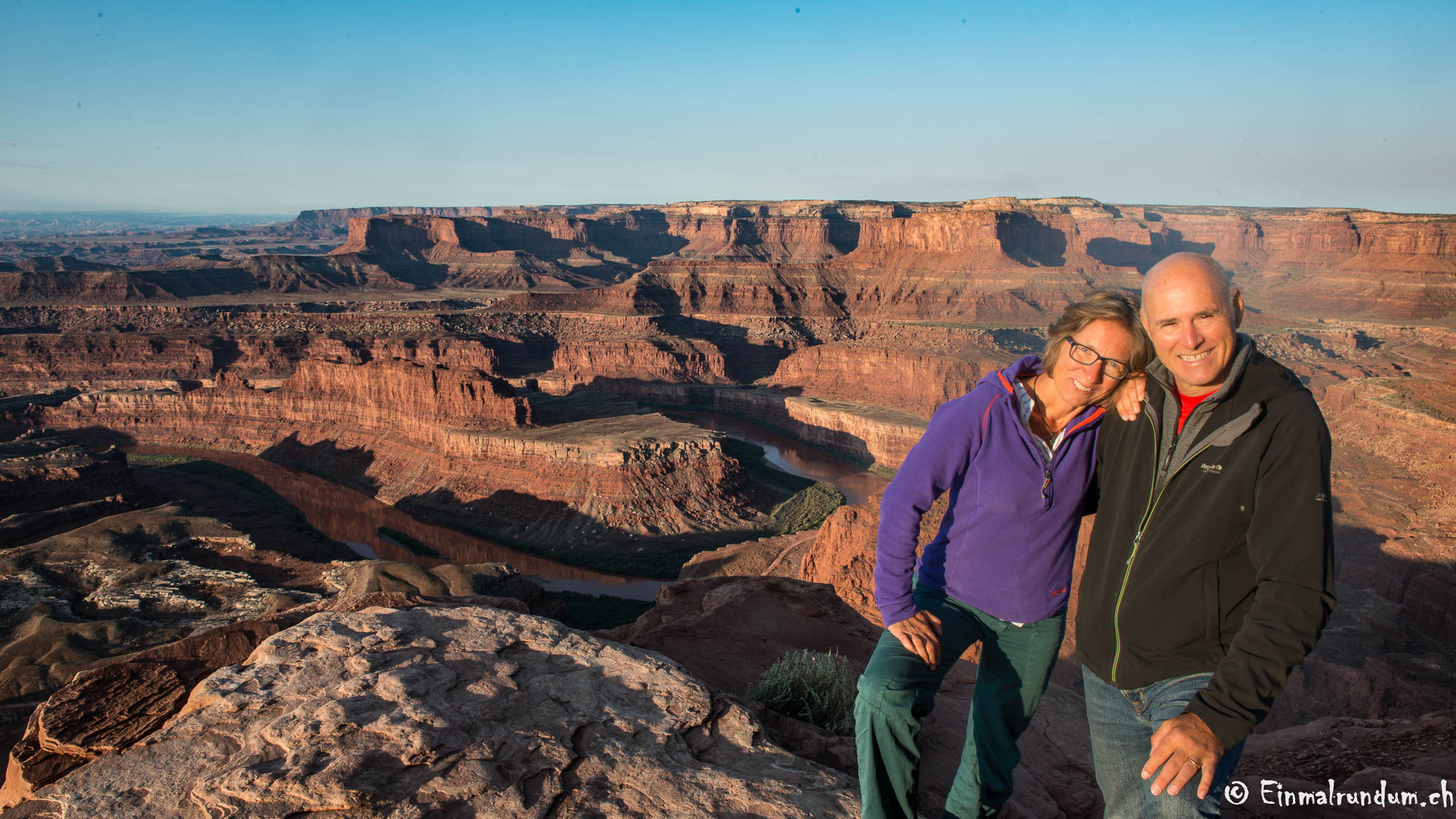 We got to know each other years ago on our last backpacking world trip in Australia. Since then, we have traveled through Namibia and Botswana together, visited the Matterhorn and spent many great weekends with them. A constant are the stories and narratives of previous trips and the dreams of future journeys. All the more reason to meet up in the USA during their sabbatical year and our trip along the Pan-American Highway.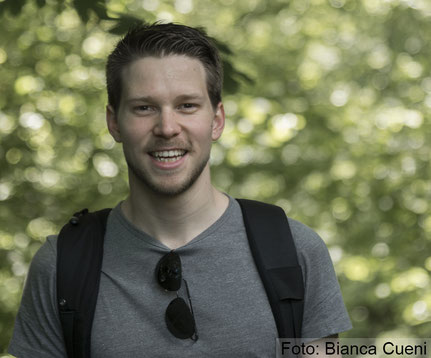 The wildlife photographer travels through Canada and Alaska with a converted, bright yellow ambulance, shooting awesome wildlife photos. A visit to his website is worthwhile! We'll meet him in Whitehorse, Yukon and who knows, maybe in Alaska we will do bear watching together.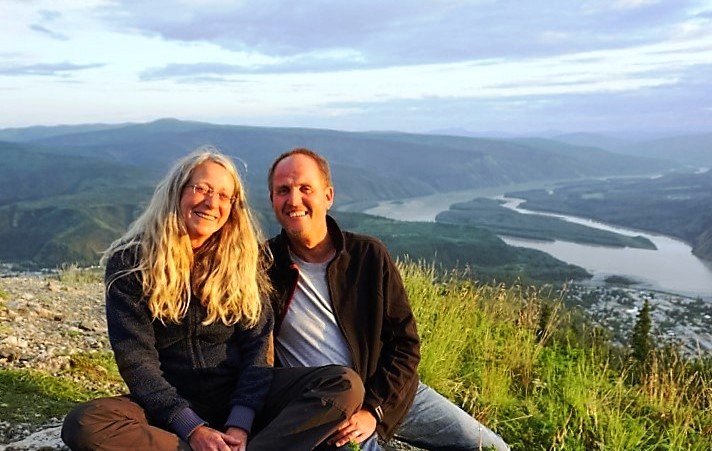 The first time we see them with their Iveco just outside of Quebec, still at the very beginning of our trip. Since then, our paths have crossed a few times: we have exchanged travel stories, laughed a lot, eaten delicious and have traveled together for a few days. We hope for many reunions along the Pan-American-Highway in the next two years.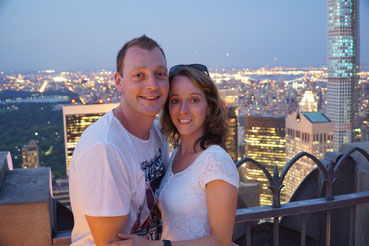 We meet the two between Banff and Jaspers at a wonderful waterfall. Then we spend a great evening around the campfire and exchange stories. The two travel in a VW bus through Canada and the USA. We wish you a wonderful time and a safe journey.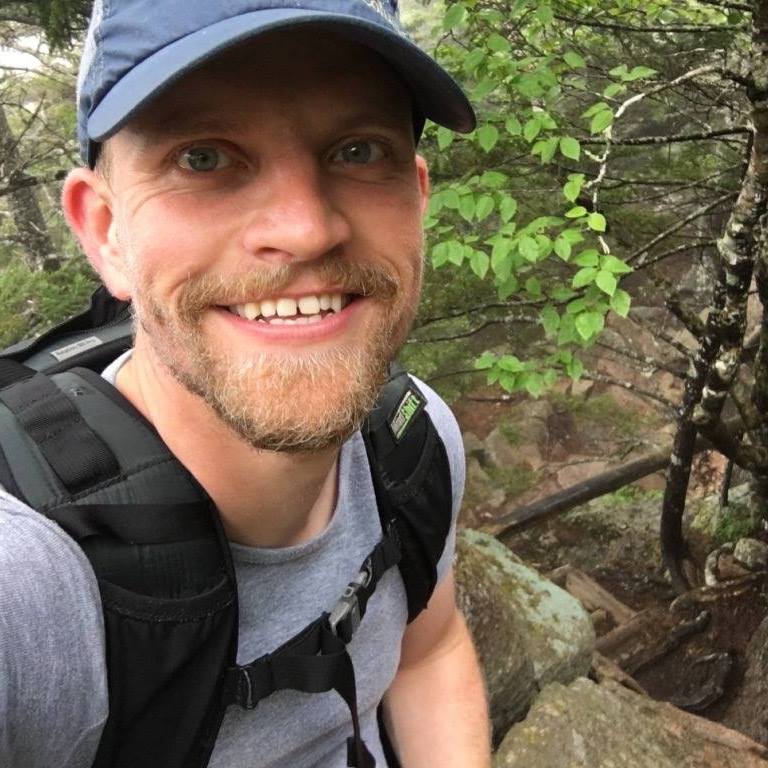 Already on the plane to Halifax we get to know the first Pan-American-Highway traveler! Ben is on the road with his converted Land Rover Defender and picks it up at the harbor in Halifax on the exact same day as we do. His route takes him across the United States, not Canada, but who knows if our paths cross again on the west coast?